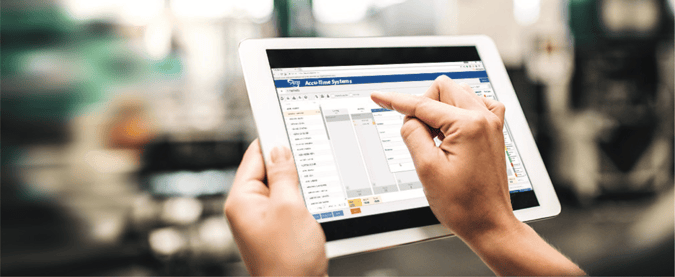 AccuSchedule integrates tightly with Workday, which provides companies with a variety of benefits. Having a single sign-on to both AccuSchedule and Workday is one aspect of this integration. Yet its advantages are easily overlooked.
What is a Single Sign-on (SSO)?
A single sign-in is as simple as it sounds: Using a single user's credential to access multiple applications.
Here's an example how SSO works: When a user signs into Workday, the SSO authentication process running invisibly in the background also signs that user into AccuSchedule using the same credentials. Managers can access AccuSchedule from within Workday like it's another module within a single application.
Because SSO happens so quietly and quickly, you may not realize how valuable the Workday-AccuSchedule SSO integration will be for your organization. SSO saves time, money, and frustration.
SSO Saves Managers and IT Staff Time and Money
The average company runs 129 applications. While employees don't log in to each one, they do expend a lot of time and energy entering and managing the passwords of the ones that do require logging on.
Recent research on password management by the Ponemon Institute found that the average worker spends nearly 11 hours a year entering and resetting their passwords. Ponemon estimates that this time wasted costs a company with 15,000 workers an average of $5.2 million in lost productivity each year.
The time wasted isn't just the time it takes to log into multiple applications. It's also the time wasted remembering and managing multiple passwords. Juggling multiple passwords squanders not only the workers' time but also the IT staff's time. The Gartner Group estimates that anywhere between 30% to 50% of all IT help desk calls are to reset passwords. It also estimates that each password reset call costs a company $70 on average.
Having an SSO for critical applications that are used daily reduces the productivity and direct costs spent on multiple password management.
SSO Improves Security
Many assume the opposite; that using SSO makes more applications vulnerable to hacking. Not valid for companies with updated password policies that address today's IT risks.
In the early days of business software growth, the standard security advice for companies was to enforce regular password changes. An unfortunate side effect of this policy is password fatigue, which leads to increased vulnerability.
Because users are human, we get easily frustrated having to remember and update multiple passwords. Frequent password changes resulted in users creating simpler passwords and using the same simple password for various applications. The tools used by today's hackers are far more sophisticated than when this password change policy was the best practice. Today, they can break simple passwords in seconds.
If companies want users to create passwords that genuinely protect against cybersecurity threats, they need their users to create longer passwords. Passwords or passphrases that are at least 12 characters long and use a mix of letters, numbers, symbols, and cases are more difficult to hack and don't need to change.
Long passwords or passphrases are tailor-made to maximize SSO security by allowing users to sign on once with one highly secure password.
SSO Lets AccuSchedule - Workday Users Get to Work
Whether a company is mostly office workers or a high-traffic workplace like a hospital or manufacturing plant - SSO helps workers quickly get into business-critical applications. By reducing the password management load of IT staff, SSO frees them up to focus on more strategic tasks that can improve security or enhance business value.
Use AccuSchedule for Workday for all the ways it will improve your company's schedule management. Enjoy the SSO benefits as a bonus. Schedule your demo today.