Leverage Your Existing Technologies with Employee Scheduling Software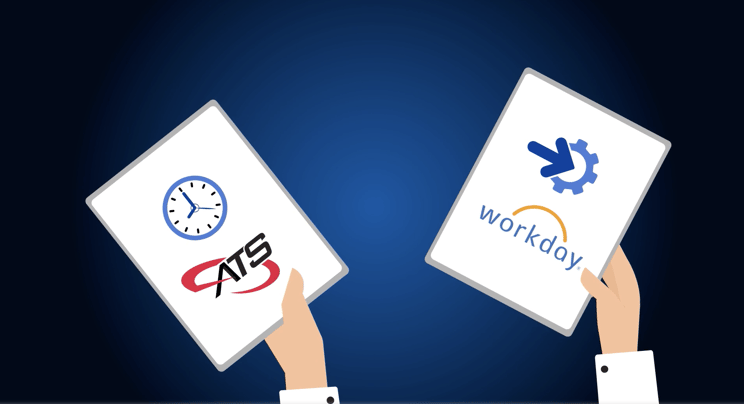 The advantages of AccuSchedule
Perhaps one of the most significant benefits of AccuSchedule's tight integration with TimeCom and Workday is how quickly your company can get it running. Implementation projects usually require data mapping and extended testing. They can be disruptive projects that take time. Not so with AccuSchedule. Your company doesn't need to do any new integration work to bring AccuSchedule into your TimeCom for Workday environment.
Your TimeCom for Workday integration is a powerful system, amplifying the utility of both your time and attendance collection and human capital solutions. Now AccuSchedule, our employee scheduling software, is here to add another layer of value to your workforce management environment.
Let's take a look into where AccuSchedule fits into your existing workforce management framework. Then we'll detail how introducing AccuSchedule maximizes your utilization and ROI on the entire integrated system.
AccuSchedule's place within your TimeCom for Workday integration
Like TimeCom, ATS hosts AccuSchedule for you. It operates directly with your ATS middleware, which is already managing your TimeCom integration with Workday seamlessly. Consequently, AccuSchedule slips smoothly into this infrastructure, sending and receiving data between its scheduling tools and Workday.
AccuSchedule also leverages the validated data management in your ATS middleware to share data with your ATS time clocks. With AccuSchedule, you can now send workers' schedule information to the time clock where they can check their schedules.
The user experience for all three tools is also cleanly integrated. One sign-on gets the user into all three solutions. From a manager's perspective, AccuSchedule looks like a new module accessed from within their Workday application.
As a Workday Certified Solution Partner, we've taken advantage of the proven integration you're currently using to bring you a smart, sophisticated scheduling tool.
AccuSchedule's employee scheduling software enhances your entire WFM system
An important feature of AccuSchedule is its drag-and-drop employee scheduling capabilities, which lets managers create and manage dynamic schedules in a flash. Managers no longer need to waste hours of their limited time in front of spreadsheets trying to build work schedules.
Schedule management can now be simple.
For example, the scheduling data created in AccuSchedule can flow into Workday, along with the actual time and attendance data collected at the terminal. And including the AccuSchedule data provides more information for Workday's predictive analytics, helping to improve schedule forecasting. Smarter forecasting means less risk of overstaffing (or understaffing) shifts.
AccuSchedule's integration with ATS time clocks turns them into robust employee self-service kiosks. Letting workers check their schedule right at the terminal is just one service. Workers can also submit time-off requests at the time clock. Through the ATS integration, the requests get fed directly into Workday, where managers can approve or deny them. Approvals get fed back into AccuSchedule, so managers don't accidentally schedule anyone to a shift during their time-off.
Enhanced reporting and analysis tools overlay actual punch data on top of the scheduled hours. Absenteeism costs U.S. employers an average of $1,685 per employee every year. The AccuSchedule overlay reports are a helpful tool helping managers identify attendance issues quickly, so they can get ahead of absenteeism before feeling its costs. These overlays create an easily consumed, visual representation of an employee's, department's, or shift's schedule compliance.
At ATS, we're committed to improving the value of the investment you're already made in ATS time and attendance tools. By leveraging validated, existing integrations already operating within your system, AccuSchedule makes dynamic employee scheduling available to your organization fast. Schedule your AccuSchedule demo today.