Choosing the Right Time Clock for Workday Integration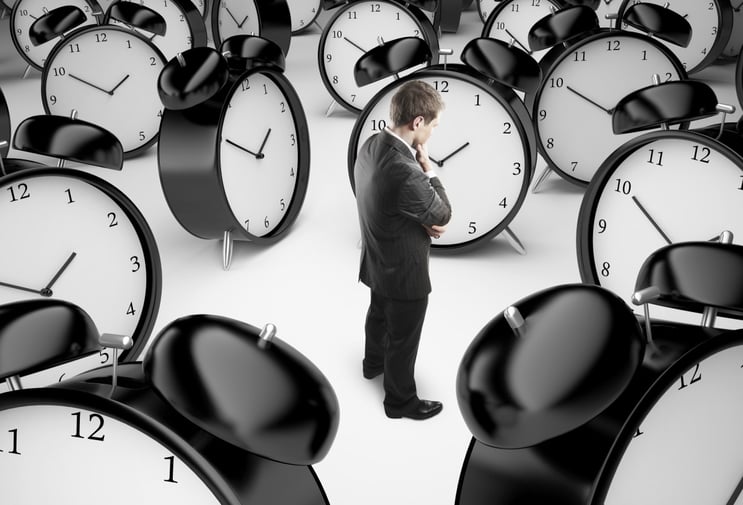 "This post was originally published on January 3rd, 2018 and updated on April 18th, 2019."
You've invested in a comprehensive solution centralizing human resources management, workforce planning, talent management and other human capital management functionality, into a single solution. Selecting the right time clock for your Workday integration is one of the most critical decisions you'll make impacting the success of your Oracle HCM or Workday implementation.
The terminal you select can either help you maximize your investment or place an artificial limit on the value you can extract from it. To make sure you select the time clock that helps you realize the full benefits for your company, consider the following issues during your terminal selection process.
Seamless integration improves reliability and business decisions
Having a robust, reliable connection tying your time clocks for Workday Time Tracking or Oracle HCM Workforce management module is vital to maximizing your system. This means:
You need a bi-directional flow of data between the time clock and the time tracking module.
The bi-directional data flows occur in near real-time. As personnel and data changes within the HR module, you want that data to get pushed out to the time clock in a timely fashion, making it easy and pain free for your managers and employees to access. Now they have the most current data helping them make better decisions that reflect the most accurate state of affairs.
The time clock and time tracking module exchange a variety of data, not just punch-in and punch-out data. You'll also want to send back data like meal breaks, employee attestations, vacation requests, employee schedules, tip totals and other information. Sharing a broader scope of data means more departments, from payroll to finance to HR, have more information they can use in other Workday or Oracle HCM modules. For example, HR can run analyses on hours worked and tips received to identify high value talent who deserve attention from some of the retention and reward processes set up in the talent management modules.
A Cloud-based middleware integration – With a cloud-based integration, you'll have peace of mind knowing that your critical employee data will always be sent from the time clock to your time tracking module. Especially during planned software updates, your time clock continues to collect data, even when not connected to the network or the back-end system. Regardless of the reason, you need a time clock that protects your data and integration integrity by collecting and storing data until the connection is back up and running. An employee time clock, like the PeoplePoint Plus™, or PeoplePoint Premium that can collect data even while offline guards the continuity, completeness and accuracy of your data.
Leverages cloud to provide terminal monitoring
Another benefit of cloud-based time clock integration is the potential to monitor your time clocks in real time via a cloud-based portal. Installing time clocks with a 24/7 monitoring system supporting them means local resources get real time alerts if a time clock goes offline. It also provides another layer of data IT and management teams can use to assess terminal utilization. Analyzing terminal utilization helps them make smart decisions regarding the most efficient locations for time clocks and identifying opportunities to improve employee adherence or engagement with the terminals for maximum effectiveness.
Screen size and functionality influences employee experience
You want a time clock with a screen large enough to deliver needed information to employees. A rich graphic screen where employees can look up and see their upcoming schedules or display the company portal with changing daily messages. A customizable touchscreen means the time clock on-screen user interface can be configured and re-configured as business needs change. A terminal like the stride80, with a large touch screen empowers your employees to enjoy a full array of self-service options, empowering them to access their own information, which also frees up HR and payroll resources.
Biometric technology provides the highest level security
Nothing provides more security against buddy punching and inaccurate attendance data than having a biometric scanner on your time clock. With the large screen offering instruction and controlled finger placement, the right time clock simplifies the enrollment process, which is when the time clock collects the biometric markers for each employee that will be used as the master for comparison on future punches.
"Biometric" is a word that tends both to interest and worry HR and payroll departments. Learn more about the advantages and challenges biometric time clocks offer companies here.
Work environment impacts time clock shelf life
Your time clock is no place to look for economies by opting for a cheaper time clock. The physical construction of the time clock enhances its longevity. While a less expensive time clock may only last two to three years, a durable time clock can last up to a decade. The immediate savings with a durable clock is not having to buy new terminals every few years. The more durable time clock stays in service, eliminating any data disruption and lost productivity that occurs each time a new time clock needs to get installed and brought online.
One more issue to think about when it comes to durability, is to make sure that the time clock can function in your work environment if your teams aren't in temperature-controlled offices. A ruggedized time clock can handle extreme temperatures and vibrations and still function.
Select the time clock that optimizes your integration
Nobody wears flip flops with a business suit. Why? Because it ruins the picture of professionalism. Why spend the time and effort in picking out a top-drawer suit (or workforce management solution) and then ruin the effect by getting lackadaisical with the final touches. The time clock may be a final touch after the system is selected, but selecting the right time clock is essential to making the HCM package work. Take the time to research and invest in the terminal that will do the most for your business.
If you're still unsure of what time clock would pair best with your Workday integration, schedule a time and attendance business consultation with one of our Workday experts. We'll talk to you about what can (and should) be collected at the time clock and tracked in Workday, and the best time clock to meet your business needs!