The Time Tracking Terminal That Opens Doors to New SaaS Markets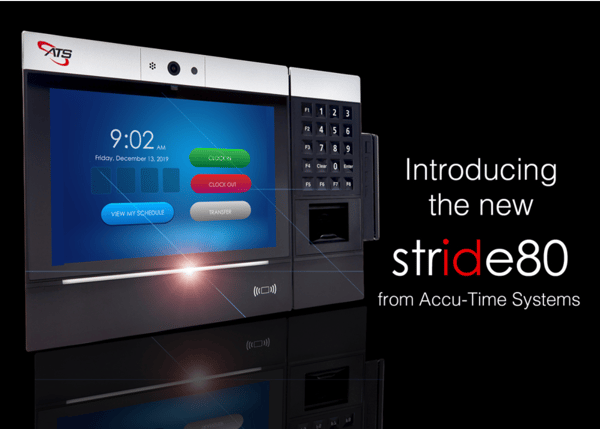 Introducing stride80
We're excited about ATS's latest innovation and addition to employee time tracking and data collection solutions!

The stride80 is here to ignite growth and spark your team's customer-oriented creativity and revenue-generating opportunities.
stride80 is an Android-based time clock terminal that doubles as a comprehensive employee self-service terminal and provides unmatched flexibility for independent software vendors (ISVs) and their customers.
Use the stride80 to move swiftly into new markets and develop new revenue streams.
The complete flexibility you have to develop the terminal-based applications you want, means the stride80 supports your revenue growth plans, no matter what they are.
Whatever employee service applications you do develop, you not only have full control over their end-to-end workflow, you also have complete control over how your customer's employees punch in and punch out. From using a badge, biometric or keypad, your options are many, but they all contribute to increased revenue.
The stride80 terminal empowers ISVs to offer customers exceptional levels of responsiveness and customization. Agile ISVs that take advantage of the stride80's platform will push themselves to the front of the pack.

Break out of the mobile-only market
The stride80 Android-based terminal presents ISVs currently offering only a mobile application a lightning-fast entry into a much broader market. Any existing Android-based app you have can easily be ported onto the stride80. Now you can offer customers and prospects the ability to use your solution with a terminal that can run a host of sophisticated workforce management functions.
Some of the largest employers don't have workers sitting in front of their own computers, such as manufacturers, health care providers, and hospitality venues. Yet many of these companies often have logistical or security barriers to allowing workers to use business apps on their personal mobile devices. Before the stride80, a mobile-only ISV had nothing to offer these lucrative prospects without a wall terminal. The stride80 changes all of that without requiring any new development from the ISV to get started.
Swift time punches no matter what reader format your customers use
Let's get to the brass tacks function for an employee time tracking and data collection device – collecting accurate and reliable attendance data through clocking in and out. No matter what employee identification method a customer or prospect company uses, it is likely compatible with the stride80.
The stride80 supports multiple badge technologies including barcode, proximity, and biometrics. It's clean and large, optional keypad makes it easy for workers to enter PIN or employee identification numbers quickly. We wanted to make sure that reader compatibility challenges are never a bar to closing a deal.
Our product development team also took steps to improve the speed and energy-efficiency with which the stride80 reads punches. We understand that your customers can't have long lines at the time clock at shift change. Having a crowd around a time clock in hectic workplaces like hospitals and hotels isn't going to work either.
The stride80 is your platform for infinite innovation of employee service applications
Responsiveness to customer and market demand is key to growth for any SaaS company. The stride80 gives ISVs complete control to develop whatever terminal-based employee self-service applications they want to deliver. Your own engineers already have the skills to build the employee self-service applications to run on the Android-native, HTML 5-enabled stride80. We deliver it with a full SDK tool kit.
After you port any existing Android apps your customers use to the stride80, you can start getting even more creative. The stride80 has an 8" high-resolution screen with multi-touch navigation. It also comes with a presence sensor and software-controllable LED indicator light bar. These features, along with its speaker/microphone and optional camera, provide your product dev teams a full array of features to incorporate into high-function apps that both employees and managers will appreciate.
What are you hearing from customers regarding functions they'd like on the terminal? With the stride80, you can build applications that:
Let employees check their own schedule and accrual information, without having to take managerial or HR time

Verify the identity of the worker completing an attestation

Deliver team or company-wide messages and so much more.
These terminal-based applications integrate seamlessly with your back-end system, regularly sending clean, validated data at the interval your customer chooses, making stride the best time clock for your customers.
Set up a call with one of our experts who can step you through a personalized demo of how the stride can move you into new markets. Take a look at the stride80 eBook to take a deeper dive into all the stride's details and benefits.