6 Ways to Streamline Leave Management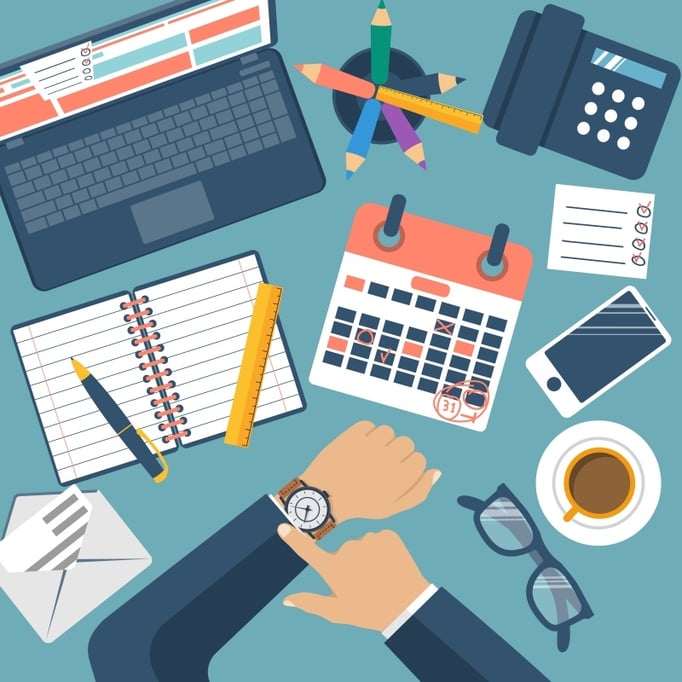 Every aspect of labor management seems to be a complicated web of internal policies, employee contracts and multiple levels of government regulation and laws. Mastering leave management for employees in a way that's legally compliant and respectful of employees' lives outside of work, all while protecting business operations and the bottom line, is one of its tallest tasks.
Exactly because leave management is complex with high impact on day-to-day business operations, streamlining the process is critical to managing its success for all interested parties.
1. Get on top of your unscheduled absences.
For all the reasons employees may be absent, the unscheduled absence is the most difficult to manage. The most effective way to manage unscheduled absence is to nip the problem in the bud, thereby minimizing its occurrence.
Automated time keeping systems that share punch-in-and-out data with their time and attendance system in near real-time can let managers know almost immediately when someone's not at work who should be. Early notification of an absence puts the manager in a position to mitigate the cost by finding the employee or getting another employee on shift. It also lets managers and HR enforce the unscheduled absence policy immediately, which deters future no-shows.
2.Managers should have a daily absence calendar.
Help managers out by letting them see, easily and quickly, what absences are scheduled for today and over the next few months. Managers have enough stress without having to remember who is or is not supposed to be at work. The absence calendar also makes it easy for them to quickly approve or deny incoming leave requests. Most time and attendance solutions will provide an absence calendar either as a daily report or on a daily dashboard.
3. Empower employees to self-service many of their leave tasks.
Free up managerial and HR time by giving employees direct access to their own leave accrual and history information. Fielding questions about leave policy, how much time employees have, and manually addressing vacation requests are time-consuming tasks that can be shifted to employees. And your employees will thank you for it. Using a wide touchscreen employee time clock as the gateway to back-end systems lets employees look up their own leave information directly at the terminal.
The terminals can also be configured to accept leave requests, which get routed automatically to managers for quick approval or denial. Some systems may also allow you to configure business rules that can send an immediate denial, or not allow the request, if the employee doesn't have the time available or if the day requested has already maxed out on scheduled leave.
4. Use integrated payroll, and time and attendance solutions to automate management of leave compliance issues.
Trying manually to keep up with all the different types of leave, and their accrual and usage for each individual employee, is a fool's errand. Let a leave management solution do the heavy lifting of tracking leave, from statutory holidays to emergency leave to managing people's option to take floater days.
5. Send well-timed reminders about leave request deadlines.
Winter holiday time and summer time can be nerve-wracking for managers who need to make sure there's no slow down due to a high level of absences. Nor do they want to handle a high volume of requests shortly before the requested leave time. Reminding employees about request deadlines and processes with internal communications they'll actually see improves compliance with leave management policies. Emails and company newsletters are one option. Reminder messages can also be pushed out to the time clock terminal. You can also send intermittent reminders about best practices for people who have foreseeable family or medical leave needs, so these employees are moved to make their requests early.
6. Collect daily no injury/injury attestations.
Whenever an employee is injured on the job, it triggers an avalanche of processes and tasks that require management. Claims need to be filed. Various notifications need to be sent. Expected leave time needs to be planned, in part so alternatives to cover the lost effort hours can be put in place. The sooner your company knows of an injury, the faster it can respond both for the sake of the employee and its own operations. The easiest, more reliable way to get a daily attestation from each employee that there wasn't a workplace injury that day is by making the attestation part of their punch-out process at the time clock. Any time someone hits "no" instead of "yes, there were no workplace injuries today," managers and HR can respond immediately.
How much time do your managers or HR staff spend on leave management right now? If you could offload some of those tasks and free up their time, what back burner HR projects would you have them tackle? Let us know in the comments section below.