26 min read
Best Practices for Workforce Management with Time Clocks for Oracle HCM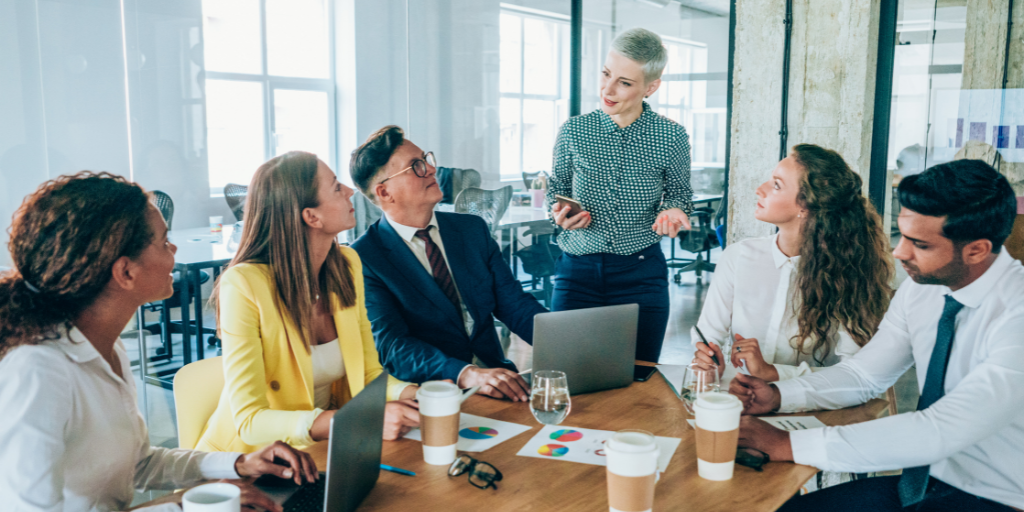 Oracle HCM is a robust workforce management solution worth optimizing so your organization extracts the maximum benefit from its investment. Your company can amplify Oracle HCM's power as an employee management tool by integrating it with an advanced time clock system.
The right time clock solution provides data, tools, and resources that help your workforce management team, and the company's managers, finance and HR staff, achieve your organization's workforce management goals. This article reviews what you should expect from a time clock data collection system and the integration with your Oracle environment. It details:
The role the

time

clock

data

collection system plays in ensuring high

quality

data

gets delivered back into your

Oracle

HCM

software to achieve optimization of your system and

workforce planning

.
What high

quality

data

collection and

data

delivery from the

time

clock to

Oracle

looks like.

How the integration of actual

employee

attendance

data

with

Oracle

HCM

software

improves

workforce planning

to realize lower labor costs and improved

productivity

.
In today's business landscape, where employees can be hard to find and keep, optimizing workforce management with the right set of digital tools can be a differentiating factor between those organizations that thrive and those that struggle.
By leveraging the power of a reliable, comprehensive-time clock solution as a critical component of your Oracle solution, your company can unlock a multitude of benefits and attain enhanced workforce management outcomes.
Deliver High

Quality
Data
to Your
Workforce Analyst
A workforce analyst is only as good as the data the analyst can access. Planning an effective workforce management strategy hinges on the availability of relevant, accurate and comprehensive data. To ensure your analysts are always working with the best employee attendance data available, look for these three data management steps:
You can collect the full scope of

data

you need and want for

workforce planning

.

The

time

clock

system

has functions that ensure the

data

quality

before it gets into

Oracle

.

Delivery of the clean workforce

data

is timely and reliable, so your team is always working with most current information.



The

Quality

of the

Time

Clock Dictates the

Quality

of

WFM
Data
The time clock is the gatekeeper of the employee attendance data that makes its way into your Oracle solution. It plays a pivotal role determining how much additional value the company can get from its workforce management software.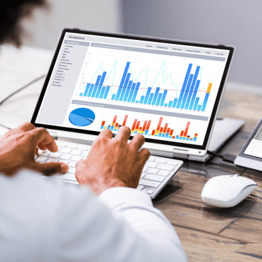 One of the first steps for selecting the right time clock is to narrow your search to only Oracle-verified time clock solutions. When you work with an Oracle-verifiedcertefied time clock systemsolution, you know the vendor's time clock and its software were successful in passing Oracle's quality review.
The next step is to make sure the vendor's clocks collect the full scope of data your team might want, not just employee work hours. If the time clock has limited customization options, you may not be able to set up its data collection to best meet needs.
For example, adding location and role data to every attendance record allows analysts to compare customer service and productivity KPIs against staff levels. Analyzing data from Oracle combined with data from Oracle time clocks can help your team determine whether the right people are working at the right locations, in the right roles, and at the right times. Armed with this information, your team can reach smarter conclusions and decisions regarding workforce allocation.

Workforce Analysts

Require Confidence in the

Time

Clock

Data
Bad data leads to bad decisions. Consequently, the workforce data collected at the time must be validated before it gets to Oracle HCM and its connected software systems. There's no point collecting the full scope of data needed if you can't have confidence in the data quality.

ATS's TimeCom cloud-based time clock system ensures data quality by reviewing each attendance record before sending it to Oracle. The automated TimeCom review can identify unmatched punches, so managers or payroll can resolve the anomaly quickly to clean up the data. The TimeCom data review also flags all attendance records to Oracle, which ensures that duplicate records do not clutter your Oracle database.
Reliable Delivery of

Remote
Data
to
Oracle
Systems
You should be able to depend on your time clock system to send attendance data automatically to Oracle on a competitive schedule. To meet this requirement, look at how the time clock system addresses these three data delivery issues.
How often is

data

sent from the

time

clock to

Oracle

?
Getting weekly updates into Oracle's scheduling and forecasting systems isn't good enough. You want your team to be more agile than that would allow.The time clock data should get automatically delivered to Oracle on a more regular basis.
For instance, the TimeCom system delivers validated time clock data to Oracle in near real-time. Consequently, team managers, WFM analysts, and HR and payroll staff are all using the most current data sets possible in their analyses and when making decisions.

Can the IT team monitor the integration?
Managing software integrations is a constant concern for company IT teams, especially if they have no visibility into integration status. You want a time clock system that includes tools that make monitoring the time clock - Oracle Time and Labor integration easy.
We make monitoring time clock - Oracle integration easy with our ClockWatch monitor. ClockWatch is a web-based app that provides a dashboard center where IT agents can see the integration status of every time clock deployed by your company. If a time clock loses power or connectivity to the network, the IT team sees that and can immediately work to resolve it, minimizing downtime.
What happens to employee attendance

data

when a

time

clock loses power or connectivity?
The primary purpose of the clock is to automate the collection and delivery of employee time data. Manual attendance data collection tasks are costly and error-prone. The time clock solution should enable maximum uptime for the clocks, which requires offering time clocks that:
Have back-up batteries in case power is lost.

Can collect punch

data

when not connected to the network.
With these features, the time clock can continue to function normally to collect employee attendance data. Then it can send the data once the clock is reconnected to the network.


Optimize Workforce Management Planning
At the core of workforce management planning lies the objective of effectively aligning resources, ensuring their availability at the right place and time to meet service and production expectations while optimizing cost. Of course, employees aren't just "resources," they're people. Managers and WFM analysts can improve how they manage people, as regards forecasting and scheduling, in ways that serve the business and the employees with valuable time clock data.

Improve

Workforce Management

Forecasting
Oracle can provide accurate forecasting analysis when it can factor in schedule adherence.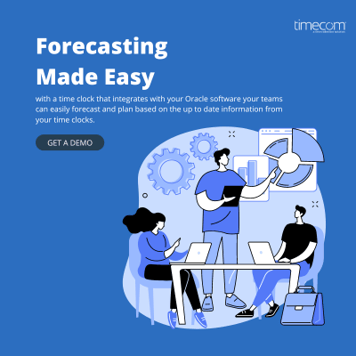 To calculate schedule adherence, Oracle needs the actual employee work data to compare against schedules.


With more accurate forecasting ability, WFM analysts can improve their staffing level recommendations with granularity. The company can use this information to avoid the high costs of over or under staffing shifts or departments.
Over or Under Staffing is Bad

Business
Overstaffing increases labor costs and tends to encourage low

productivity

.
Understaffing makes

workers

unhappy, which can also lead to low

productivity

, as well as higher risk to their

health

due to work accidents or simply stress.



The negative impact of both can lead to missing production or service levels, impacting customer happiness, which can be a serious drag on the company's bottom line.
Allows Managers to Schedule Confidently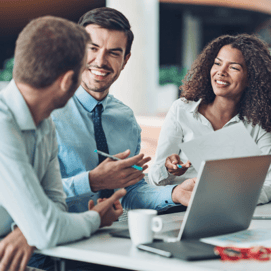 Oracle HCM lets managers schedule faster and more efficiently. Having the time clock data integrated into their scheduling module lets managers avoid scheduling mishaps that can frustrate employees or cost the company a lot of money.
It keeps labor costs down by helping the manager avoid scheduling workers with a higher number of overtime hours than budgeted. Having actual worked hours guiding future scheduling also improves legal compliance. An employee may not have been scheduled to work a shift, but came in to cover for a sick employee. If the manager can't see those work hours while managing schedules, that employee may get over-scheduled. The over-scheduling might end up contravening a law that limits how many hours employees can work within a 24-hour period or how much down time they must have between shifts.
Here's an additional resource on three ways your company can save money through data-driven workforce analysis.

Enhanced Performance

Management Strategy
A sophisticated time clock is easy for employees to use, even its most advanced and highest-value functions. Employees who work different roles should be able to quickly select the relevant role when punching in for a shift. When employees optimize their use of the clock, the company gets the most benefits from the time clock system integration with Oracle.
Critical to employee adoption and engagement with the clock is working with a time clock vendor that provides a smooth roll out of the time clock - Oracle Time and Labor implementation. More than just a stress-free time clock deployment, a smooth roll out must come with the support and training employees need to make the most of their new tools. This also includes training and support for managers and WFM analysts on what they can do with the integration.
Robust Tool for

Absence Management
WFM analysts and managers use the data integration reporting to identify attendance trends quickly, before a minor negative trend can explode into a more difficult problem to resolve. With regular updates, managers and HR staff can approach an employee about an absentee issue in a positive, rather than critical way.
Being able to address absenteeism in a collaborative manner supports a healthy workplace culture and employee well-being.
Other

Absence Management

Trends for Managers to Identify
Leaving shift early

Not taking breaks

Not taking PTO

Coming back early from breaks
WFM and HR staff should also be able to run these absence management and schedule adherence reports on various macro-levels, such as by manager, department, or shift, not just by employee. Now, they can identify early if there are any systemic causes of high absenteeism.
High-Powered

WFM

Improves

Employee
Productivity
When the company improves in even one of these areas of workforce management processes or performance strategy, it will see a concurrent boost in employee productivity. Working with a platform that supports your team to excel in all of them helps you build and maintain a workforce that meets existing scheduling and performance KPIs.
It also enhances efforts to continuously improve employee engagement and loyalty to the company, further boosting productivity and reducing the costs associated with high employee turnover. Having a stable, experienced workforce means your company is holding on to skilled, reliable employees who can be further cross- and up-trained for even more workforce management flexibility.
Magnify the Power of Your Workforce

Management Solutions
Integrating an advanced time clock system into your workforce management solutions elevates the value the entire workforce planning program can bring to the business. The partner behind the time clock solution you select to integrate with your Oracle Time and Labor system is as critical to achieving its maximum impact as the solution itself.
TimeCom is our cloud-based employee time and attendance tracking, purpose-built to integrate with Oracle and enhance its ability to support your team and the work you do.
You can get to know our team at ATS by scheduling a live demo. Contact us here to set it up.
Biometric Usage: Growing concerns over the privacy and security of biometrics are driving government regulations surrounding the definition of personal data and how to protect it. These regulations vary from country to country, state-to-state, and in some cases city by city. Most often the governing regulations are dictated based on the location where the information is being collected. It is important to understand the local regulations in the geographic areas in which you operate. If you are uncertain regarding your regulatory obligations, we encourage you to consult with your legal counsel.